Concrete Batching Plant Modification
Over the years, the requirements of your Concrete Plant systems will change and the growth of your business may require additions to be made to your existing plant.
At Basford Plant, we have a team of expert engineers that are capable of working with existing plant installations in all shapes and sizes and can add or modify parts of it to boost efficiency and capacity.
We also manufacture a wide range of ancillary concrete plant components, such as the following:
Concrete Plant Water Storage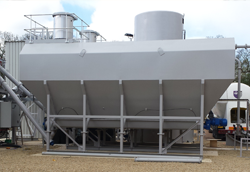 We're able to provide concrete plant water storage solutions that are capable of holding clean and recycled water with all of the usual things you'd expect from your water storage including:
Water weighing or metering systems.
HP pumps
Wash down facilities
Truck fill systems.
---
Low Profile Silos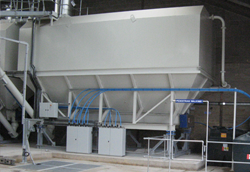 We offer low profile silos at a wide range of capacities, including 50Te, 60Te and 80Te. Our low profile silos are built to integrate with existing or new plant and can be located in an indoor or outdoor environment.
We also design, manufacture and install a range of other plant systems, including:
Weighing Systems.
Dust extraction systems.
Skip loading systems.
Vertical Elevator Belt/Bucket
Hoppers/feeders.
Mixer replacement.
Conveyor and loading systems.
Cement storage silo's circular and low profile.
---
If you would like to discuss your own concrete plant modification needs, please call us on 01623 451 010 and we'll be glad to help.